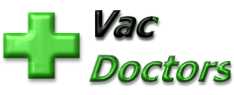 Vac Doctors of Milton Keynes
Vac Doctors
For All Your Floor Cleaning Equipment Repairs
All You Wanted To Do Was Clean The Floor
Welcome To Vac Doctors (MK), we offer to help you get your equipment back up and running in the shortest possible time and the least amount of effort on your part. We can service and repair all types and makes of Domestic and Commercial floor cleaning equipment, including vacuum cleaners, carpet extraction machine, floor polishers and small scrubber dryers. Call now on 01908 504213
Established in Milton Keynes in 1993 we cover the Milton Keynes area and surrounding villages and towns including Buckingham , Leighton Buzzard and Towcester.
No expensive call out charges.
We will collect your faulty machine, repair and return it in two to three days depending on the availability of spares.
Quotations are given before any repairs are carried out on your machine.
Domestic machines can be collected from your home or your place of work.
Domestic collection times to within ½ an hour available if required.
You can drop your machine off by prior appointment.
So if you have a problem with your machine or need advice give Vac Doctors a call today !