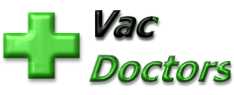 Vac Doctors of Milton Keynes
Check condition of drive belts and replace where necessary.

Check condition of carbon brushes and replace if necessary.

Check correct operation of computer controlled height adjustment (automatic X range only).

Remove debris from air ways.

Replace filters where necessary.

Remove cotton and carpet strands from brushroll and bearing housings

Check bearings

Replace bag where necessary.

Perform an electrical safety test.

Clean and polish exterior
Whats Included In Your Service ?
Quote To Repair Your Sebo
What's Included In Your Quote?
Free Collection and Delivery

Inspection, Work Required and Cost

Portable Appliance Check

Service Included

All Work Guaranteed
Inspect machine and work out cost to repair.

Get approval from customer and repair.

Service machine.
Brush Roller X1,X1.1,X4, Felix
5010GE
We cover the Milton Keynes area including Buckingham, Leighton Buzzard and Towcester.
Sebo Floorcare Servicing and Repairs
Sebo Service £39.00 plus parts.