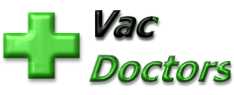 Vac Doctors of Milton Keynes
Dyson Hand Held Repairs and Servicing
For Dyson hand held vacuum cleaners there is a £15.00 investigation charge to cover collection, checking machine and returning if customer decides not to have the Dyson repaired. When customer wants Dyson repaired the investigation charge will be deducted from the final repair charge.
Customer can bring the hand held Dyson in and we will provide a Free quote to repair and service.
Check condition of drive belts and replace where necessary.

Dismantle cyclone assy, clean and reassemble

Remove debris from air ways.

Clean filters or replace where necessary.

Remove cotton and carpet strands from brush bar and bearing housings.

Replace brush bar if worn.

Check brush bar housing bearings and replace if necessary.

Check battery run time.

Clean dirt container.

Clean and polish exterior.
Inspect Dyson and work out cost to repair.

Get approval from customer to repair.

Repair and service Dyson.
Dyson Hand Held Vacuum Cleaner Servicing and Repairs
We cover the Milton Keynes area including Buckingham, Leighton Buzzard and Towcester.
Dyson Hand Held Service £39.00 plus parts.